As we enter the final hours of 2012, I look back at a historic year in both harness racing and my career. What I know is 2012 proved to be an eventful year in both harness racing and my profession.
Captaintreacherous winning the Woodrow Wilson Final
On record sides, we had a monster pacer by the name of Captaintreacherous, who became the first two-year-old pacer since Artsplace to win the coveted Dan Patch Pacer of the Year honors. The most memorable mile coming from the Alagna trainee was when he turned for home in the Woodrow Wilson and destroyed the field in 1:49.3, increasing his lead by 7 lengths within an eighth of a mile.
The Ron Burke stable's famed Foiled Again also set history this year in the Canadian Pacing Derby final. Gallo Blue Chip had held the record for racing earnings in a career for 12 years as Foiled Again surpassed him in a fairy tale way, upsetting Betterthancheddar in the Canadian Pacing Derby.
On the training side, Linda Toscano broke the gender boundaries with her prized trotter Market Share. A Hambletonian victory for Market Share made Linda Toscano the first woman to win the Hambletonian in the 87 years of the event. She also trained top open trotter Chapter Seven, who equaled Lucky Jim and Muscle Hill's all-time World Record of 1:50.1 in the Nat Ray invitational at the Meadowlands.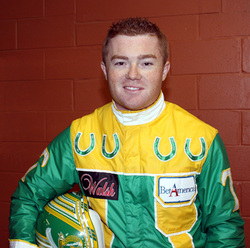 Driver Tim Tetrick in the Meadowlands
Paddock
Tim Tetrick re-wrote the record books again. A stellar stakes season aboard Captaintreacherous, Heston Blue Chip, American Jewel, Market Share, Check Me Out, Chapter Seven and Anndrovette made him the first driver to have driven seven Dan Patch winners in a season. Tetrick also led in seasonal earnings, topping the list with $18,529,676. He also won the USHWA driver of the year title and was the first driver to win four Breeders Crown events in the same year.
The fabulous filly Check Me Out started out the 2012 summer with two world record performances, one in the Del Miller at the Big M, and the other in the Pennsylvania Sires Stakes Championship.
With many more records to list, I also close out a fabulous year. I became the host of the Blog Talk Radio program North American Harness Update, I also continued another year at the Hambletonian Society and TwinSpires. Most importantly, I got my first taste of true journalism this summer at The Red Mile, where I did the press releases for the two weeks of Grand Circuit action.
I especially want to thank the following; Nick Salvi, Jason Settlemoir, Darin Zoccali, Jeremey Day, Garnet Barnsdale, Frank Cotolo, Moira Fanning, Derek Simon, Robert 'Hollywood' Heyden and Chris Tully, all mentioned had some involvement in making this a fabulous 2012. I thank you all and I thank all the readers of The Racing Inquirer.
See you in 2013!